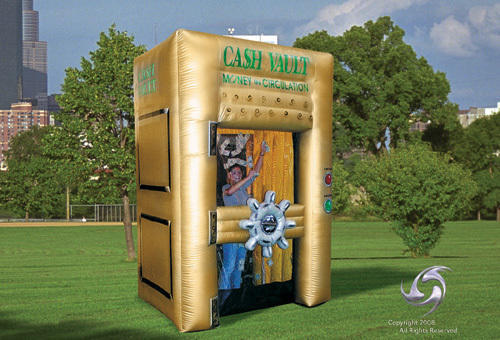 Cash money vault
Actual Size: (5'L X 7'W X 10'H)
Outlets: 1




Introducing the exhilarating Cash Money Vault inflatable game! Step into a world of excitement and money-grabbing frenzy as you enter this thrilling attraction. In this heart-pounding experience, participants only so much time to immerse themselves in a swirling sea of floating cash and grab as much as they can before time runs out.
Once inside the Cash Money Vault, participants find themselves surrounded by a mesmerizing whirlwind of fluttering banknotes, creating an atmosphere of anticipation and high stakes. As the countdown begins, the adrenaline kicks in, and it's a race against the clock to snatch as many bills as possible. With every movement, cash dances and drifts through the air, providing a thrilling challenge and a chance to scoop up a small fortune.
Ideal for events, parties, or team-building activities, the Cash Money Vault inflatable game offers an unforgettable experience for participants of all ages. Get ready to dive into a frenzy of cash and enjoy an exhilarating ride in the ultimate race against time!